frequently asked questions
Can I attend the event for free?
Children under the age of 12 only need to obtain a free wristband for the Special Stages on Saturday and Sunday. The spectator areas besides the downtown Special Stage in Nyíregyháza are free of charge. Due to the nature of the venue, only children sitting on the arm can enter the RabócsiRing free of charge.
Where can I buy tickets?
Tickets are available at Eventim.hu and the Eventim network. For the addresses of the ticket offices, please click here.
I would like to have a Rally Pass card but it says that I will get an e-ticket!
All the spectator areas of Rally Hungary (except the downtown Special Stage) are accessible with a ticket. The tickets can be purchased electronically on Eventim.hu and its ticket offices. For all types of tickets, the electronic voucher must be exchanged for a wristband at any Ticket Points, technically entitling the voucher holder to attend the event.
Rally Pass plastic cards will also be issued at the Ticket Points but the electronic voucher or redeemed wristband is necessary and sufficient for entry to the Spectator Areas.
How can I get the beanie for All in Plus tickets?
We would like to kindly ask you to come to Race Office at Nyíregyháza Athletics Center and pick up the beanie in the main hall at the counter at the following opening times.
Nyíregyháza Atlétikai Centrum
4400 Nyíregyháza, MÁV sporttelep, Tiszavasvári út 4.
Opening hours
Friday, 06 October 2023 10:00-22:00
Saturday, 07 October 2023 7:00-19:00
Sunday, 08 October 2023 7:00-20:00
In case it is not possible for you to include Race Office during your stay, please inform us and we will do our best to find a solution.
Hol válthatom be az elektronikus jegyet karszalagra?
A rendezvény összes helyszíni jegyértékesítési pontján lehetőség nyílik a voucher beváltására és a belépésre jogosító karszalag átvételére. A jegyértékesítési pontok listája és elhelyezkedése a Nézői információ oldalon található. 
Eventim.hu is not working!
Please send an email with a detailed description of the problem to info@tex.hu or contact one of Eventim's local ticketing partners!
Can I pay for the tickets by cash?
Tickets can only be purchased in advance at Eventim's partner ticket offices, not online. Cash payment will be possible for tickets purchased on site.  
How long does Pre-Sale last?
The pre-sale period ends on 4 October 2023 at 21:00, but due to the increasing interest in Rally Hungary, we recommend that you do not leave the purchase of tickets to the last minute!
When do you release the maps?
We will keep you informed about the maps on our social media platforms, our Facebook page and Instagram profile, our Spectator  Information page and local media.
What is Showtime?
Showtime is a special feature in the programme, during which participants will have the opportunity to complete the Rabócsiring SSS1 on Friday and the Nyíregyháza City Stage on Saturday.
The aim of this element of the programme is to allow cars and their drivers who do not enter the race to add a special experience to the fans.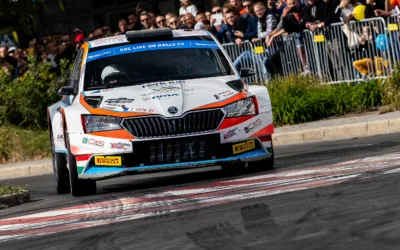 Miklós Csomós, Viktor Bán put in a simply stunning performance on Saturday in Rally Hungary, leading by 22.6 seconds ahead of Mads Ostberg. Ferenc Vincze, who has already won the Hungarian championship title, is having the third podium position. Miklós Csomós has had...